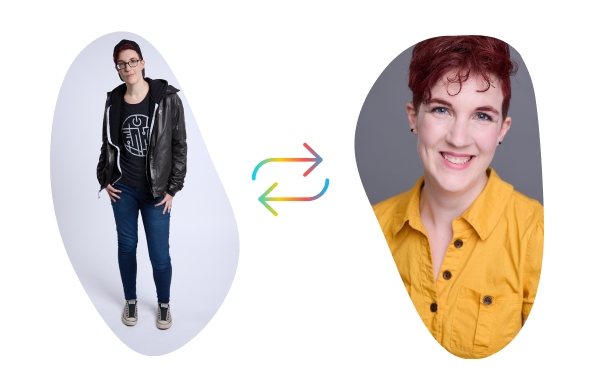 Hello, I'm Katherine Tole!
An avid gamer and tech wizard with a gender and vocally fluid voice range reflecting the LGBTQ+ spectrum.
What does identifying as non-binary mean to me?
I don't identify with gender stereotypes and what's been pressed upon me all my life. I've never really associated with hyper-feminine or hyper-masculine things. I think of gender as a spectrum that I move around fluidly.
Want to learn more? Great, but regular bios can be so boring. Instead, I'd like to tell how I became the voice actor I am today!
Kat Facts
I was born in Orange County, grew up in Bend, OR, and now live in Seattle, WA

"I take weird as a compliment."
I specialize in explainer videos, corporate narrations, video games, animation, and e-learning
I understand tech terminology, so I don't have to "fake it" when I read techy talk
I am non-binary; I'm fluid in both gender and vocal abilities
Cold reading is one of my specialties

Collaboration and receiving feedback is important to me. I love to improve, learn, and get better
I worked in tech for 9 years, mostly at startups, because I love small companies
My husband, Matthew, worked with me at Pebble, a smartwatch startup
I love to "give a voice" to voiceless characters in indie video games
I have a Twitch stream, an Etsy store, and I collect hobbies
Voice acting has made me a better person and more attuned with my own nature
"Being a voice actor has taught me how to manage my own time and how to grow a business."

I started voice acting in 2016 after my dad initially got interested in the career.
In high school I worked at Geek Squad, helping people recover lost photographs and fix their computer issues
Attended Oregon State University and studied Chemical Engineering with a minor in English Lit
I served as a guest instructor at VoiceOne, Voice123, and VoiceTrax
Cissy Jones and Jennifer Hale inspire me with their kindness and legendary video game voice acting
I believe a hotdog is a sandwich, but if we're being specific it's more like a taco
I have traveled to 13 other countries, and studied abroad in Greece for 3 months
Education
Katherine has attended classes and weekend workshops at Voicetrax in San Francisco since September 2016. She actively enrolls in classes to further her career with some of the best voice acting coaches on the west coast.
Classes Taken
Introduction to Narration with Vicki Baum
Creating Characters with Chuck Kourouklis and Brian Sommer
To Paris and Back with Samantha Paris
Get Animated! with Townsend Coleman
Colors of Your Voice with Chuck Kourouklis
True Blue You with Samantha Paris
Simply Acting II with Frank Coppola
Home Audition Haven with Jeff Howell
Other Workshops
Introduction to Narration with Vicki Baum
Creating Characters with Chuck Kourouklis and Brian Sommer
To Paris and Back with Samantha Paris
Get Animated! with Townsend Coleman
Other Projects
Katherine is one half of the "V123 Pros", a duo that helps other voice talent be sucessful on the online casting site Voice123. She teaches and speaks at conferences regularly along with an online training course at V123Pros.com.

Since 2016 Katherine has maintained an Etsy store with sewing projects, etched glassware, 3D printed projects, and merch for her ToleTales brand. With other 300 sales and a consistant 5 star rating she loves to make custom gifts for people as a hobby.

Starting in 2019 Katherine has streamed on Twitch under the username ToleTales (toletales.com) multiple days a week. The stream contains voice acted playthroughs of games that don't already contain voiced characters to help her practice cold reading and character improv.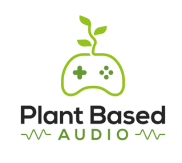 Katherine is the voice actor and dialogue editor at Plant Based Audio, a full service video game audio collective. Comprised of a network of Seattle-based game audio freelancers, Plant Based Audio is a flexible and scalable external development partner for your next game.